SOSIALISASI PENGISIAN PROFIL BELAJAR SISWA INKLUSIF DI SDN 1 DAN MI AL-FATHIYAH LENDANG ARA KOPANG LOMBOK TENGAH
Heri Hadi Saputra

Mansur Hakim

PGSD FKIP Universitas Mataram

Lalu Hamdian Affandi

PGSD FKIP UNRAM

Husniati Husniati

PGSD FKIP UNRAM

Radiusman Radiusman

PGSD FKIP UNRAM
Keywords:
socialization, student learning profile, learning difficulties
Abstract
Student learning profile is an instrument that can help teachers to identify learning difficulties experienced by students, especially those with functional barriers. Therefore, this activity aims to improve the ability of teachers in filling out student learning profiles to teachers at SDN Lendang Ara and SDN Jurit with a total of 20 participants. This activity was carried out using presentation, discussion, question and answer methods and group work. Through presentations and question and answer sessions the team provided a conceptual understanding of the nature of inclusive education in primary schools, the goals and benefits of inclusive education. The socialization of filling in the student learning profile instruments was guided through presentations and discussions between the team and the teacher. Teachers in groups accompanied by teams fill out student learning profile instruments to identify learning barriers experienced by students. This community service activity recommends that universities and the government be more intense in socializing inclusive education programs and holding capacity training for teachers to be able to present solutions for the learning of children with functional barriers
References
Budiyanto. (2017). "Pengantar Pendidikan Inklusif".prenadamedia grup. Jakarta.
Oktaviyanti, I., Nasaruddin., Setiawan, H., & Jiwandono, I. S. 2021. Identifikasi Kesulitan Fungsional Siswa SDN Peresak Bebuak Kecamatan Kopang Kabupaten Lombok Tengah. Jurnal Ilmiah Profesi Pendidikan. 6 (1), DOI: https://doi.org/10.29303/jipp.v6i1.131.
Marzano, R.J., Marzano, J.S., Pickering, D.J. (2003)." Classroom Management That Works; Research-based Strategies for Every Teacher". Alexandria, VA; ASCD
Mujito, dkk, (2012). "Pendidikan Inklusif", baduose media jakarta Hornby
Mitchell david, (2008) "what really works in special and inklusive educatioan". Rauletge.
O'Neil,J.(1994/1995).Can inclusion work. A Conversation With James Kauffman and Mara Sapon-Shevin. Educational Leadership. 52(4) 7-11.
Rombot, Olifia. (2017). Pendidikan Inklusi. Diakses dari: https://pgsd.binus.ac.id/2017/04/10/pendidikan-inklusi/. (diunduh 23 oktober 2019).
Setiawan, H., Aji, S. M. W., & Aziz, A. (2020a). Tiga Tantangan Guru Masa Depan Sekolah Dasar Inklusif. BRILIANT: Jurnal Riset dan Konseptual. 5 (2), p. 241 – 251. DOI: http://dx.doi.org/10.28926/briliant.v3i4.458.
Setiawan, H., Oktaviyanti, I., Jiwandono, I. S., Affandi, L. H., Ermiana, I., & Khair, B. N. (2020b). Analisis Kendala Guru Di Sdn Gunung Gatep Kab. Lombok Tengah Dalam Implementasi Pendidikan Inklusif. Didaktis: Jurnal Pendidikan dan Ilmu Pengetahuan. 20 (2) p. 169 – 183. DOI: http://dx.doi.org/10.30651/didaktis.v20i2.4704.
Skidmare, David.(2004). Inclusion the Dynamic of School Development. New York : Open University Press.
Tiffany. (2017). "17 Karakteristik Anak Berkebutuhan Khusus". Diakses dari: https://www.google.com/amp/s/dosenpsikologi.com/karakteristik-anak berkebutuhan-khusus/amp. (diunduh19 oktober 2019).
Wijaya, David. (2019). "Manajemen Pendidikan Inklusif". Jakarta: Prenadamedia.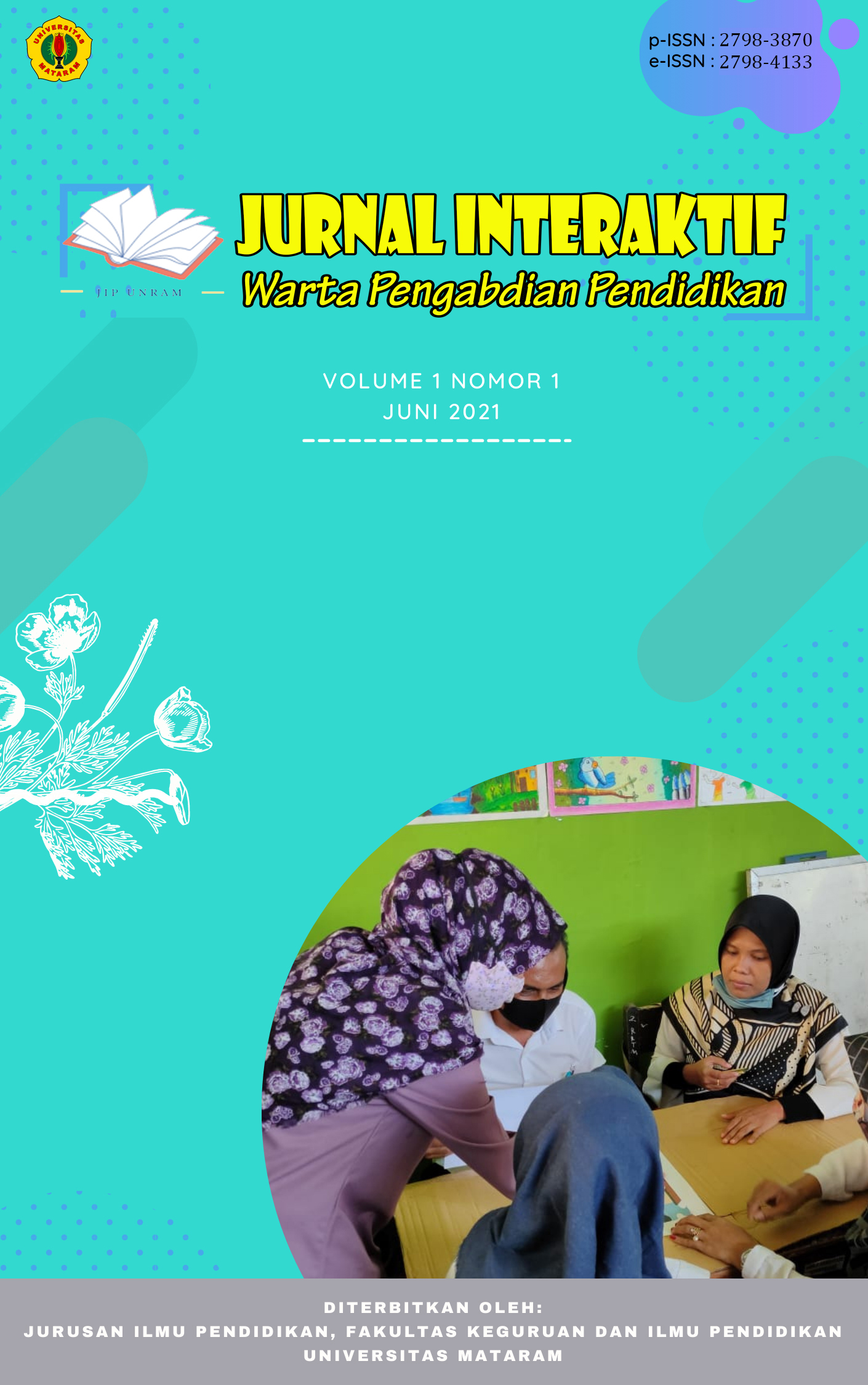 How to Cite
Saputra, H. H., Hakim, M., Affandi, L. H., Husniati, H., & Radiusman, R. (2021). SOSIALISASI PENGISIAN PROFIL BELAJAR SISWA INKLUSIF DI SDN 1 DAN MI AL-FATHIYAH LENDANG ARA KOPANG LOMBOK TENGAH. Jurnal Interaktif: Warta Pengabdian Pendidikan, 1(1), 7 - 13. https://doi.org/10.29303/interaktif.v1i1.2