PENYULUHAN ADMINISTRASI PERPUSTAKAAN MI DARUL HUDA CODO KECAMATAN WAJAK KABUPATEN MALANG
Annisa Arifatur Rohmah

Universitas Negeri Malang

Fitria Kusuma Dewi

Universitas Negeri Malang
Keywords:
counseling, administration, library
Abstract
The library is one of the government agencies that support the level of education and as an information institution that is used as a place to explore one's potential through reading and recreational facilities. Libraries will optimize services in four areas, namely learning activity facilities, information facilities, research facilities, and recreational facilities. To maximize library services to users, this library administration extension activity was selected as a program to develop and operate libraries in schools. The objectives of counseling are to optimize library operations, increase library utilization in MI, increase students' motivation and interest in reading, and improve library management. The activities have been carried out and have achieved 100% of the expected results. Counseling was given to librarians and also students. Counseling for students about rules, how to borrow, how to return and also an explanation of borrowing cards. While counseling to administrators is about all library administration, starting from when books are entered, book coding, book classification, borrowing and returning books.
References
Alexander, O., Isnaini, E. N., Maranti, P., Bawiling, H., Pryanto, M. B., & Dimyati, M. (2021). Perancangan Perpustakaan Gemar Membaca Berbasis Website untuk Desa Mekarjaya. Jurnal IMPACT: Implementation and Action, 3(2), 109-122.
Hapsari, N. F. A. (2022). PEMBERDAYAAN MASYARAKAT MELALUI PERPUSTAKAAN DALAM UPAYA PENINGKATAN SUMBER DAYA MANUSIA DI PERPUSTAKAAN DESA REMPUNG. JOURNAL OF PROGRESSIVE INNOVATION LIBRARY SERVICE, 2(1).
Purnomo, E., & Arifin, Z. (2021). Pengoptimalan Perpustakaan Sekolah SMP Batik Program Khusus Surakarta melalui Aplikasi SLiMS. JIPI (Jurnal Ilmu Perpustakaan dan Informasi), 6(2), 274-286.
Rustiarini, N. W., & Dewi, N. K. C. (2021). Penataan Perpustakaan Desa untuk Meningkatkan Literasi Membaca. LOSARI: Jurnal Pengabdian Kepada Masyarakat, 3(1), 8-15.
Saputra, A. F. A., Musaddat, S. ., Zain, M. I. ., & Marijo, O. D. S. F. . (2022). Manajemen Pengelolaan Perpustakaan Sekolah di SDN 3 Sikur Tahun Pelajaran 2017/2018. Pendagogia: Jurnal Pendidikan Dasar, 2(1), 1–7. Retrieved from https://jurnal.educ3.org/index.php/pendagogia/article/view/22
Setyowati, L., & Erdan, W. (2018). Menumbuhkan Budaya Literasi Melalui Gerakan "Ayo Membaca Buku" di Perpustakaan MTs Assalam Pasuruan. Jurnal Vokasindo, 6(2), 100-112.
Winoto, Y., & Sumiati, T. (2013). PEMBINAAN PERPUSTAKAAN DESA DI KAMPUNG CIREUNDEU KELURAHAN LEUWIGAJAH KECAMATAN CIMAHI SELATAN. Dharmakarya, 2(2).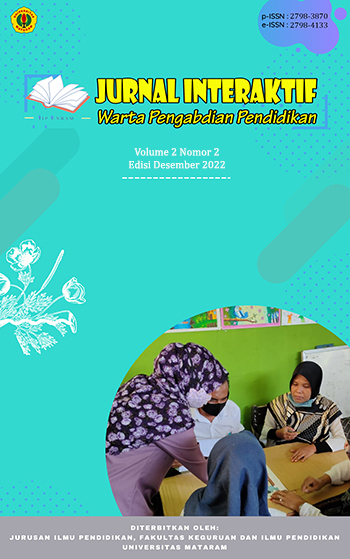 How to Cite
Rohmah, A. A., & Dewi, F. K. (2022). PENYULUHAN ADMINISTRASI PERPUSTAKAAN MI DARUL HUDA CODO KECAMATAN WAJAK KABUPATEN MALANG. Jurnal Interaktif: Warta Pengabdian Pendidikan, 2(2), 48 - 52. https://doi.org/10.29303/interaktif.v2i2.83