PELATIHAN DOKTER KECIL DAN PEMILIHAN KADER DOKTER KECIL UNTUK OPTIMALISASI FUNGSI UKS DI SDN 02 CODO KECAMATAN WAJAK KABUPATEN MALANG
Iman Kukuh Pribadi

Universitas Negeri Malang

Oriza Zativalen

Universitas Muhammadiyah Lamongan
Keywords:
UKS, litle doctor, elementary school
Abstract
UKS (School Health Enterprises) is an integrated cross-program and cross-sectoral effort in order to improve the health status and shape the healthy life behavior of school-age children who are in religious schools and colleges. Based on initial observations, the health facilities, in this case the UKS in Codo Village, especially at SDN Codo 02, felt that they were not as optimal as they should be. The most striking thing is the inappropriateness of the UKS (School Health Business) room which should be an important point in all schools as a health facility for school residents. The main objective of this activity is to create a comfortable UKS room for school members and students who are proficient in simple health care and to maintain the existence of the UKS with the awareness of school members. The results of the implementation of the Little Doctor Training and Selection activity program at SDN Codo 02, Wajak District, Malang Regency were very satisfying because they had achieved a percentage of up to 100% of the expected results. With the Little Doctor Cadre Training and Selection program implemented by KKN students and supported by the school and Codo 02 Elementary School students who are enthusiastic about the activities being carried out, the school has 20 Little Doctors ready to be placed at UKS.
References
Aliviameita, A., Purwanti, Y., & Wisaksono, A. (2019). Pelatihan Dokter Kecil Sebagai Upaya Mengembangkan Usaha Kesehatan Sekolah di Sekolah Dasar Kabupaten Sidoarjo. JPM (Jurnal Pemberdayaan Masyarakat), 4(1), 283-290.
Amareta, D. I., & Putra, D. S. H. (2016). Pendampingan Dokter Kecil di Sekolah Dasar Negeri Antirogo 04 Kecamatan Sumbersari Kabupaten Jember. Prosiding.
Apriani, L., & Gazali, N. (2018). Pelaksanaan trias usaha kesehatan sekolah (UKS) di sekolah dasar. Jurnal Keolahragaan, 6(1), 20-28.
Hidayati, L., & Suswardany, D. L. (2009). PENINGKATAN KETERAMPILAN DOKTER KECIL SEBAGAI UPAYA MEMAJUKAN USAHA KESEHATAN SEKOLAH (UKS) DI MADRASAH IBTIDA'IYAH MATHOLI'UL FALAH DESA BUKO KECAMATAN WEDUNG KABUPATEN DEMAK.
Maqfiroh, E. (2016). Pelaksanaan Program Dokter Kecil dalam Usaha Kesehatan Sekolah (UKS) di Sekolah Dasar Se-Kecamatan Pundong Kabupaten Bantul Tahun 2016. PGSD Penjaskes, (5).
Ristanto, R. (2019). Pengaruh pendidikan kesehatan dengan metode simulasi terhadap pengetahuan dan ketrampilan dokter kecil pada penanganan luka terbuka. Jurnal Kesehatan Mesencephalon, 5(2).
Suiraoka, I. P., & Kusumayanti, G. D. (2020). Pemanfaatan Media Penyuluhan Gizi Lembar Balik oleh Dokter Kecil Dalam Program UKS Di Sekolah Dasar Kecamatan Sukawati Kabupaten Gianyar Tahun 2019. Jurnal Pengabmas Masyarakat Sehat, 2(3), 182-187.
UU RI no. 23 tahun 1992 tentang Kesehatan.
Wahyuni, N. P. D. S. (2013, December). Program Dokter Kecil sebagai Upaya Meningkatkan Perilaku Hidup Bersih dan Sehat pada Siswa Sekolah Dasar. In Prosiding Seminar Nasional MIPA.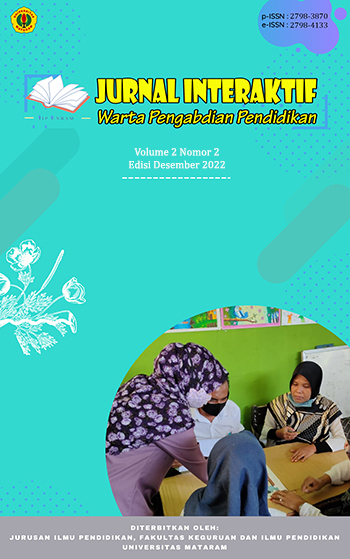 How to Cite
Pribadi, I. K., & Zativalen, O. (2022). PELATIHAN DOKTER KECIL DAN PEMILIHAN KADER DOKTER KECIL UNTUK OPTIMALISASI FUNGSI UKS DI SDN 02 CODO KECAMATAN WAJAK KABUPATEN MALANG. Jurnal Interaktif: Warta Pengabdian Pendidikan, 2(2), 33 - 37. https://doi.org/10.29303/interaktif.v2i2.80