PELATIHAN PENANGANAN CEDERA KEPADA PESERTA DIDIK KELAS V DI MI DARUL HUDA DESA CODO KECAMATAN WAJAK KABUPATEN MALANG
Dio Alief Eka Utama Putra

Universitas Negeri Malang

M. Resa Anggra Kusuma

Universitas Negeri Malang
Keywords:
Handling, Injury, like to exercise
Abstract
Real Work Lecture (KKN) is one of the courses programmed for Malang State University (UM) Students. In the implementation of the KKN program in Codo Village, the program chosen was "Training in Injury Management for Class V Students at MI Darul Huda". This program was chosen because most students like to exercise. The steps in implementing the Injury Handling Training program for Class V Students at MI Darul Huda Ds. Codo Kec. Wajak Kab. Malang are as follows: (1) observation to MI Darul Huda Codo, Wajak District, Malang Regency; (2) planning programs; (3) consulting and coordinating programs with schools; (4) determining the time and place of implementation; (5) forming an implementing committee; (6) preparation for the implementation of activities; and (7) the implementation of the KKN program. The results of the implementation of the program/activity of the Injury Handling Training activities for Class V Students at MI Darul Huda Ds. Codo Kec. Wajak Kab. Malang is very satisfying because 85% of the expected results have been achieved. From the results of the implementation which reached 85%, of course there were supporting factors that facilitated the running of the program, namely the principal who welcomed the activities to be carried out and also the sports teacher who was very enthusiastic. Apart from that, the students are also willing to help with the implementation of the activity so that they can experience the process of making the field and later use the field.
References
Herlina, H., Burhan, Z., & Ashari, L. H. (2022). SOSIALISASI PENANGANAN CEDERA OLAHRAGA TINGKAT SD SE-KECAMATAN PRAYA TENGAH KABUPATEN LOMBOK TENGAH NTB. DEVOTE: Jurnal Pengabdian Masyarakat Global, 1(1), 1-7.
Khadavi, M. R., & Ulfah, W. A. (2019). WORKSHOP PELATIHAN PENCEGAHAN DAN PERAWATAN CIDERA (PPC) GURU PENDIDIKAN JASMANI SEKOLAH DASAR KECAMATAN GERUNGGANG KOTA PANGKALPINANG. AL-QUWWAH: JURNAL PENGABDIAN MASYARAKAT, 2(1), 1-25.
Mashfufa, E. W. (2021). PENDAMPINGAN PENANGANAN CEDERA PADA ANAK USIA SEKOLAH DI SEKOLAH BERBASIS ALAM: THE ASSISTANCE OF INJURY MANAGEMENT ON SCHOOL AGE CHILDREN IN THE NATURE BASED SCHOOL. Jurnal Pengabdian Masyarakat Kesehatan, 7(1), 60-63.
Nekada, C. D. Y., & Wiyani, C. (2020). Pelatihan Pertolongan Pertama Pada Kecelakaan untuk Guru Sekolah Dasar se-Kecamatan Depok, Sleman, DIY. Jurnal Pengabdian Dharma Bakti, 3(2), 55-65.
Pratama, B. N., Wantonoro, M. K., Kep, S., & Sari, A. D. (2020). Pendidikan Kesehatan Pertolongan Pertama Cedera Terhadap Pengetahuan dan Sikap Guru dalam Praktik Penanganan Cedera Siswa Di Sekolah Dasar: Literature Review.
Syardiansah, S. (2019). Peranan Kuliah Kerja Nyata Sebagai Bagian dari Pengembangan Kompetensi Mahapeserta didik: Studi Kasus Mahasiswa Universitas Samudra KKN Tahun 2017. JIM UPB (Jurnal Ilmiah Manajemen Universitas Putera Batam), 7(1), 57-68.
Wijayanti, N. P. N., Mandan, A., & Hidayat, H. (2021). Pelatihan Penanganan Cedera Olahraga pada Guru Olahraga di Ujung Batu Kabupaten Rokan Hulu. Indonesian Journal of Sport Community, 1(1), 14-17.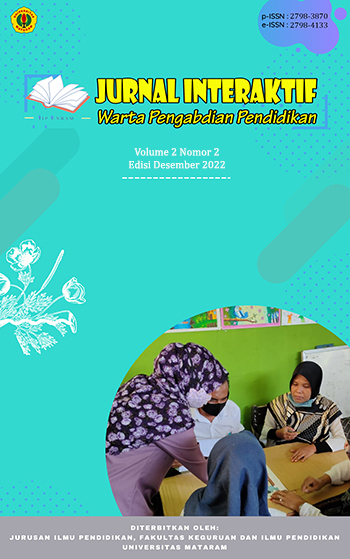 How to Cite
Putra, D. A. E. U., & Kusuma, M. R. A. (2022). PELATIHAN PENANGANAN CEDERA KEPADA PESERTA DIDIK KELAS V DI MI DARUL HUDA DESA CODO KECAMATAN WAJAK KABUPATEN MALANG. Jurnal Interaktif: Warta Pengabdian Pendidikan, 2(2), 28 - 32. https://doi.org/10.29303/interaktif.v2i2.79