PELATIHAN CARA PENGEPAKAN DAN CARA PEMASARAN PRODUK HANDY CRAFT ACCESSORIES DI PPTQ AR ROHMAH DESA CODO KECAMATAN WAJAK KABUPATEN MALANG
Ana Faizatus Sholichah

Universitas Negeri Malang

Mila Suraya

Universitas Negeri Malang
Keywords:
handicrafts, packaging, marketing, students
Abstract
Codo Village, Wajak District, Malang Regency is a village with a predominantly Muslim population, so that in this village there are many Islamic boarding schools that have been established. There are many opportunities to carry out community development programs through young men and women at the Islamic boarding school in Codo Village. One of the trainings that has the potential to be carried out is Training on Making Handy Craft Accessories and how to pack and market them. Through this training the students/students in the pesantren can explore their potential and develop their creativity in the field of Handy Craft. The steps taken are as follows: (1) direct observation to the Islamic boarding school; (2) Analyze the results of the observations; (3) The 2nd observation is carried out to describe the work program to be carried out at the pesantren; (4) carry out training; and (5) Evaluation of program implementation. The training was held in one place, namely at the PPTQ AR ROHMAH in Codo Village. The participants were very enthusiastic in participating in the training. They train pretty well and earnestly. Many of the participants were skilled at the end of the training.
References
Aini, Q., Yulianto, T., & Faisol, F. (2021). Pelatihan Pembuatan Kerajinan Tangan œBUKET Untuk Meningkatkan Kreativitas Siswa SMK Mawaddah. Jurnal ABDI: Media Pengabdian Kepada Masyarakat, 7(1), 73-77.
Anasrulloh, M. (2017). Pelatihan pembuatan kemasan (packaging) untuk meningkatkan pemasaran produk olahan Kue Kacang Emping Melinjo (No. 7nbkr). J-ADIMAS (Jurnal Pengabdian kepada Masyarakat). 5 (1).
Disperindag DIY. (2021). Fungsi Dan Teknik Kemasan Pada Industri Olahan Makanan. (Online), (https://disperindag.jogjaprov.go.id/fungsi-dan-teknik-kemasan-pada--industri-olahan-makanan-artikel-c51ce410c124a10e0db5e4b97fc2af39), diakses tanggal 15 September 2022.
Iranita, I., & Wulandari, K. (2021). Pelatihan Aspek Marketing Mix untuk Usaha Kerajinan Tangan dalam Pemanfaatan Potensi Alam Bintan di Kecamatan Bintan Utara. Journal of Maritime Empowerment, 3(2), 1-8.
Mas'udah, K. W., Achmad, Z. A., Chayani, I. S. P., Multazam, N. A., & Putra, R. F. A. (2021). Pelatihan desain pengemasan dan pemasaran kelompok UMKM untuk meningkatkan pendapatan masyarakat Kelurahan Dupak Kecamatan Krembangan Kota Surabaya Jawa Timur. Share: Journal of Service Learning, 7(2), 129-135.
Nursidiq, C., & Iftayani, I. (2020, December). Pelatihan Packaging dan Pendampingan Pemasaran Online bagi UMKM Yangko Anindita Purworejo. In Prosiding University Research Colloquium (pp. 99-104).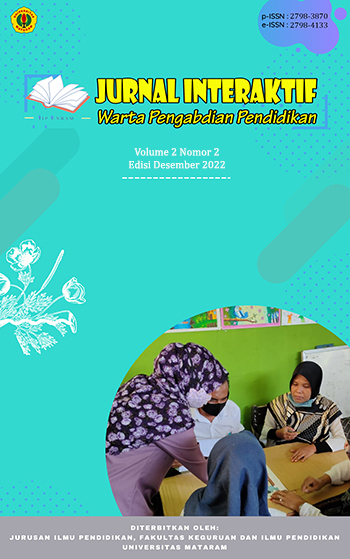 How to Cite
Sholichah, A. F., & Suraya, M. (2022). PELATIHAN CARA PENGEPAKAN DAN CARA PEMASARAN PRODUK HANDY CRAFT ACCESSORIES DI PPTQ AR ROHMAH DESA CODO KECAMATAN WAJAK KABUPATEN MALANG. Jurnal Interaktif: Warta Pengabdian Pendidikan, 2(2), 17 - 22. https://doi.org/10.29303/interaktif.v2i2.77