PELATIHAN PEMBUATAN PROPOSAL PENGAJUAN BANTUAN MESIN PENGGILING PAKAN IKAN LELE DESA CODO KECAMATAN WAJAK
Retno Palupi

Universitas Negeri Malang

Yuswanti Dwi Cahyani

Universitas Negeri Malang
Keywords:
proposal making, submission of assistance, Catfish Feed
Abstract
The aim of this training is to train catfish farmers in Codo village to be able to prepare proposals for submitting assistance for catfish feed processing equipment. Students of the Real Work Lecture at the State University of Malang who are conducting the Real Work Lecture in Codo Village, Wajak District, Malang Regency, are holding an Entrepreneurship Training activity with the theme "Entrepreneurship Training and Development of Catfish Cultivation Groups". This is a training that will give participants an overview of the world of entrepreneurship and how to make a proposal which will later be a business proposal and a funding proposal for production equipment which will be useful for applying for financial assistance for the business being run. The strategy for implementing the training for making a proposal for submitting assistance for a catfish feed grinding machine in the Catfish Cultivation Group in Codo Village, Wajak District is the preparation stage, the Implementation Stage, and the evaluation stage. The results of the implementation of the training program for making Proposals for Submission of Assistance for Catfish Feed Grinding Machines in the Catfish Cultivation Group in Codo Village, Wajak District, Malang Regency were achieved and running smoothly. Namely with evidence of the enthusiasm of the members of the catfish farming group. In addition, participants can understand the material presented and are able to apply it in real terms.
References
Adre, H. Q. (2018). Begini Cara Ternak Ikan Lele Bagi Pemula yang Baik dan Benar. (online), (https://ukmkreatif.com/cara-ternak-ikan-lele/), diakses 20 Oktober 2022.
Direktorat Produksi dan Usaha Budidaya. (2017). Buku Saku: Budidaya Ikan Lele Sistem Bioflok. Jakarta: Direktorat Produksi dan Usaha Budidaya Kementerian Kelautan dan Perikanan
Hasyim, M. (2014). PELATIHAN PEMBUATAN PROPOSAL KEGIATAN PADAREMAJADUSUNNGEPUH LOR, DESA BANYUSIDI, PAKIS, MAGELANG, JAWA TENGAH. Asian Journal of Innovation and Entrepreneurship (AJIE), 3(03), 206-210.
KBBI. (2022). Arti kata proposal. (online), (https://www.kbbi.web.id/proposal). Diakses 20 Agustus 2022.
Suprapto, H. A. (2018). Pelatihan pembuatan proposal rencana bisnis (business plan) bagi siswa madrasah Tsanawiyah Nurul Hikmah dan SMP Al-ihsan guna meningkatkan kemampuan berwirausaha. Abdimas Siliwangi, 1(2), 81-88.
Syarifuddin, S., Damayanti, R. A., Muis, M., & Pahlevi, C. (2022). Pelatihan Pembuatan Proposal Kegiatan untuk Mendorong Partisipasi Masyarakat di Desa Bontoparang, Kecamatan Mangarabombang, Kabupaten Takalar. JPP IPTEK (Jurnal Pengabdian dan Penerapan IPTEK), 6(1), 61-70.
Undang-Undang Nomor 20 Tahun 2008 tentang Usaha, Mikro, Kecil, dan Menengah. Jakarta: Kementrian Koperasi dan UKM RI.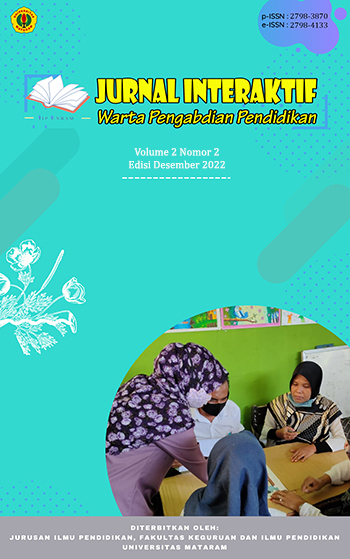 How to Cite
Palupi, R., & Cahyani, Y. D. (2022). PELATIHAN PEMBUATAN PROPOSAL PENGAJUAN BANTUAN MESIN PENGGILING PAKAN IKAN LELE DESA CODO KECAMATAN WAJAK . Jurnal Interaktif: Warta Pengabdian Pendidikan, 2(2), 12 - 16. https://doi.org/10.29303/interaktif.v2i2.76