KLASIFIKASI BUKU DAN RENOVASI RUANG UNTUK MENGOPTIMALKAN PENGOPERASIAN PERPUSTAKAAN SERTA MINAT BACA SISWA DI MI DARUL HUDA CODO KECAMATAN WAJAK KABUPATEN MALANG
Fitria Kusuma Dewi

Universitas Negeri Malang

Annisa Arifatur Rohmah

Universitas Negeri Malang

Intan Maskurin

Universitas Negeri Malang
Keywords:
book classification, room renovation, library, reading interest
Abstract
The purpose of this service is to carry out Book Classification and Room Renovation to Optimize Library Operations and Students' Interest in Reading at MI Darul Huda Codo. Based on the results of field observations it is known that the management and layout of the MI Darul Huda Codo library in Wajak District is still not good. This can be seen from the existence of a library room that is not well maintained and the existing library has not been operated. In addition, the layout and coding of the existing books has not been properly regulated and there is no adequate reading room for students who will read the books in the library. Even though the students at the school have a high interest in reading. The library functions as a vehicle for education, research, preservation, information and recreation to increase the intelligence and empowerment of the nation. The implementation mechanism for book classification activities and library room renovation at MI Darul Huda Codo starts with planning to evaluating activities which are described as follows; (1) planning improvement and development; (2) planning a library management mechanism; (3) to collect book data; (4) classifying and coding books according to the DDC system; (5) library room renovation; and Evaluation. From the results of the implementation of the book classification program and the renovation of the library space at MI Darul Huda Codo, Wajak District, Malang Regency, it can be concluded that the distribution of knowledge about book classification to library administrators makes it easier for administrators to manage the library, even libraries that were initially inoperable became operational. Apart from that, with the renovation of the library room, MI Darul Huda students feel comfortable in the library so that their interest in reading is getting higher.
References
Artana, I. K. (2013). Pelatihan Klasifikasi Buku dan Pembuatan Kartu Katalog Buku Bagi Petugas Perpustakaan Sekolah Tingkat Sekolah Dasar (SD) di Kota Singaraja. WIDYA LAKSANA, 2(1), 76-83.
Asdam, B. (2015). Minat baca dan promosi perpustakaan sebagai sarana mendekatkan masyarakat pada perpustakaan. PERENNIAL, 14(1).
Bafadal, I. (2011). Pengelolaan Perpustakaan Sekolah. Jakarta: BumiAksara.
Basuki, S. (1991). Pengantar Ilmu Perpustakaan. Jakarta: Gramedia Pustaka Utama.
Efrina, M., Sasongko, R. N., & Zakaria, Z. (2017). Pengelolaan Perpustakaan Sekolah. Manajer Pendidikan: Jurnal Ilmiah Manajemen Pendidikan Program Pascasarjana, 11(6).
Kusumaningrum, D. E., Gunawan, I., Sumarsono, R. B., & Triwiyanto, T. (2019). Pendampingan Pengelolaan Perpustakaan untuk Mendukung Gerakan Literasi Sekolah. Abdimas Pedagogi: Jurnal Ilmiah Pengabdian kepada Masyarakat, 2(3), 164-169.
Nafisah, A. (2016). Arti penting perpustakaan bagi upaya peningkatan minat baca masyarakat. LIBRARIA: Jurnal Perpustakaan, 2(2).
Suwarno, W. (2011). Pengetahuan Dasar Kepustakaan; Sisi Penting Perpustakaan dan Pustakawan. Bogor: Ghalia Indonesia.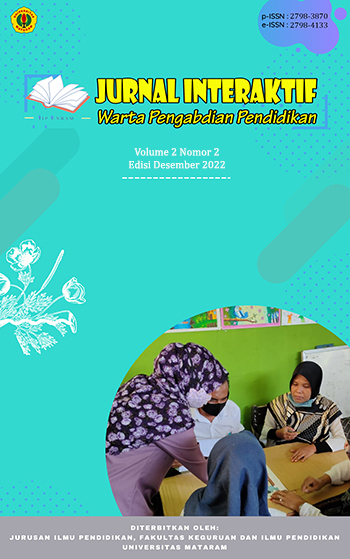 How to Cite
Dewi, F. K., Rohmah, A. A., & Maskurin, I. (2022). KLASIFIKASI BUKU DAN RENOVASI RUANG UNTUK MENGOPTIMALKAN PENGOPERASIAN PERPUSTAKAAN SERTA MINAT BACA SISWA DI MI DARUL HUDA CODO KECAMATAN WAJAK KABUPATEN MALANG. Jurnal Interaktif: Warta Pengabdian Pendidikan, 2(2), 6 - 11. https://doi.org/10.29303/interaktif.v2i2.75