SOSIALISASI PROTOKOL KESEHATAN COVID 19 MENGGUNAKAN STRATEGI KOMUNIKASI DI WILAYAH KERJA PEMERINTAH DESA GOLONG
Agung Saukani Dewantara

Ilmu Komunikasi Universitas Mataram

Shinta Desiyana Fajarica

Universitas Mataram

Yulanda Trisula Sidarta Y.

Universitas Mataram
Keywords:
Communication Strategy, Socialization of Health Protocol, Covid 19
Abstract
COVID-19 is an infectious disease caused by a newly discovered coronavirus. This new virus and the disease it causes were unknown before the outbreak started in Wuhan, China, in December 2019. COVID-19 has now become a pandemic that has occurred in many countries around the world. Therefore, socialize the importance of using the COVID-19 health protocol now. This is very important, because not all people understand about this disease. The socialization that was carried out in Golong Village was carried out to provide understanding to the community that it was important to comply with the COVID-19 health protocol, such as wearing masks, maintaining distance, and washing hands. This service aims to provide an understanding of the importance of using the COVID-19 health protocol to the people in Golong Village. The target of this socialization is the whole community of Golong Village, especially children and elderly parents. A good communication strategy is needed so that the socialization provided is easy to understand.
References
Cangara, H. (2013). Perencanaan dan strategi komunikasi. Jakarta: Raja Grafindo Persada.
Sugiyono, D. (2010). Memahami penelitian kualitatif.
Semiawan, C. R. (2010). Metode penelitian kualitatif. Grasindo.
Pangkapi, M. F. (2018). Strategi Komunikasi Badan Penanggulangan Bencana Daerah Dalam Mensosialisasikan Siaga Bencana Banjir (Doctoral dissertation, University of Muhammadiyah Malang).
Wonok, G. R. (2020). Strategi Pemerintah Desa Dalam Pencegahan Penyebaran Virus Corona (Covid-19)(Studi di Desa Mokobang Kecamatan Modoinding Kabupaten Minahasa Selatan). Politico: Jurnal Ilmu Politik, 9(1).
Pratyaksa, I. G. T., & Putri, N. W. E. (2021). Strategi Komunikasi Pemerintah Provinsi Bali Dalam Mengatasi Pandemi Covid 19. Communicare, 2(2).
Rahayu, A. (2020). Strategi Komunikasi BPBD Kabupaten Lombok Utara dalam Upaya Menghadapi Pandemi COVID-19 di Kabupaten Lombok Utara (Doctoral dissertation, Universitas Mataram).
World Health Organization. (2020). Coronavirus. Www.Who.Int.
Kannan, S. P. A. S., Ali, P. S. S., Sheeza, A., & Hemalatha, K. (2020). COVID-19 (Novel Coronavirus 2019)-recent trends. Eur Rev Med Pharmacol Sci, 24(4), 2006-2011.https://www.who.int/indonesia/news/novel-coronavirus/qa/qa-for-public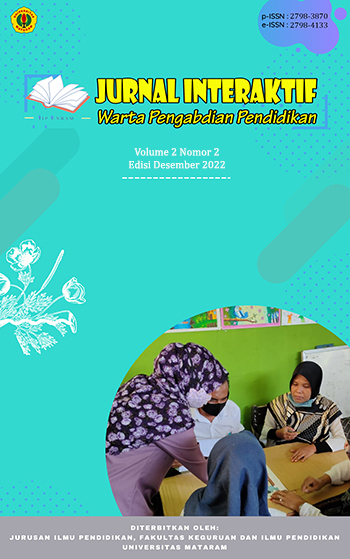 How to Cite
Dewantara, A. S., Fajarica, S. D., & Sidarta Y., Y. T. (2022). SOSIALISASI PROTOKOL KESEHATAN COVID 19 MENGGUNAKAN STRATEGI KOMUNIKASI DI WILAYAH KERJA PEMERINTAH DESA GOLONG. Jurnal Interaktif: Warta Pengabdian Pendidikan, 2(2), 1 - 5. https://doi.org/10.29303/interaktif.v2i2.74