BIMBINGAN KEAGAMAAN TENTANG ASWAJA AN-NAHDLIYAH PADA KELOMPOK KEGIATAN DZIKIR FIDA' PUTRI DI MASJID AL- AMIN DESA SOKO, BANDUNG, TULUNGAGUNG
Fatik Lutviana Anggraini

Sekolah Tinggi Agama Islam At-Taqwa Bondow

Vera Feryyal

Sekolah Tinggi Agama Islam At-Taqwa Bondowoso
Abstract
Religious issues brought up by a number of Islamic groups in Indonesia often lead to bad understanding in the community because they contain provocations and attempts to corner these Islamic groups. This service aims to respond to and counteract the deviant ideological understanding that is why this activity is important to be encouraged in the midst of society. The method of service is coordination, communication, implementation of activities and evaluation. The location of the service is in Soko Village, Bandung, Tulungagung Regency. The target of the service is the Dhikr Fida' Putri Activity Group at the Al-Amin Mosque, Soko Village, Bandung, Tulungagung. The results of the service activities include: a) Service activities have a positive impact on residents at the service location, namely reviving a religious atmosphere, instilling an attitude of togetherness, uniting the local community.
References
Fadeli, Soelaiman. 2007. Antologi NU (Sejara, istilah, amaliyah, dan uswah). Surabaya: Khalista
Fattah, Munawir Abdul. 2006. Tradisi Orang-orang NU. Yogyakarta: PT. LKiS Pelangi Aksara
Lickona, Thomas. 2012. Mendidik Untuk Membentuk Karakter: Bagaimana Sekolah dapat Memberikan Pendidikan Sikap Hormat dan Bertanggung Jawab. Jakarta: Bumi Aksara.
Muchtar, Masyhudi, dkk. 2007. Aswaja An-Nahdliyah. Surabaya: Khalista.
Qamar, Mujamil. 2014. Impelementasi ASWAJA dalam prespektif NU di Tengah Kehidupan Masyarakat. Jurnal Kontemplasi. Vol. 02, No. 1.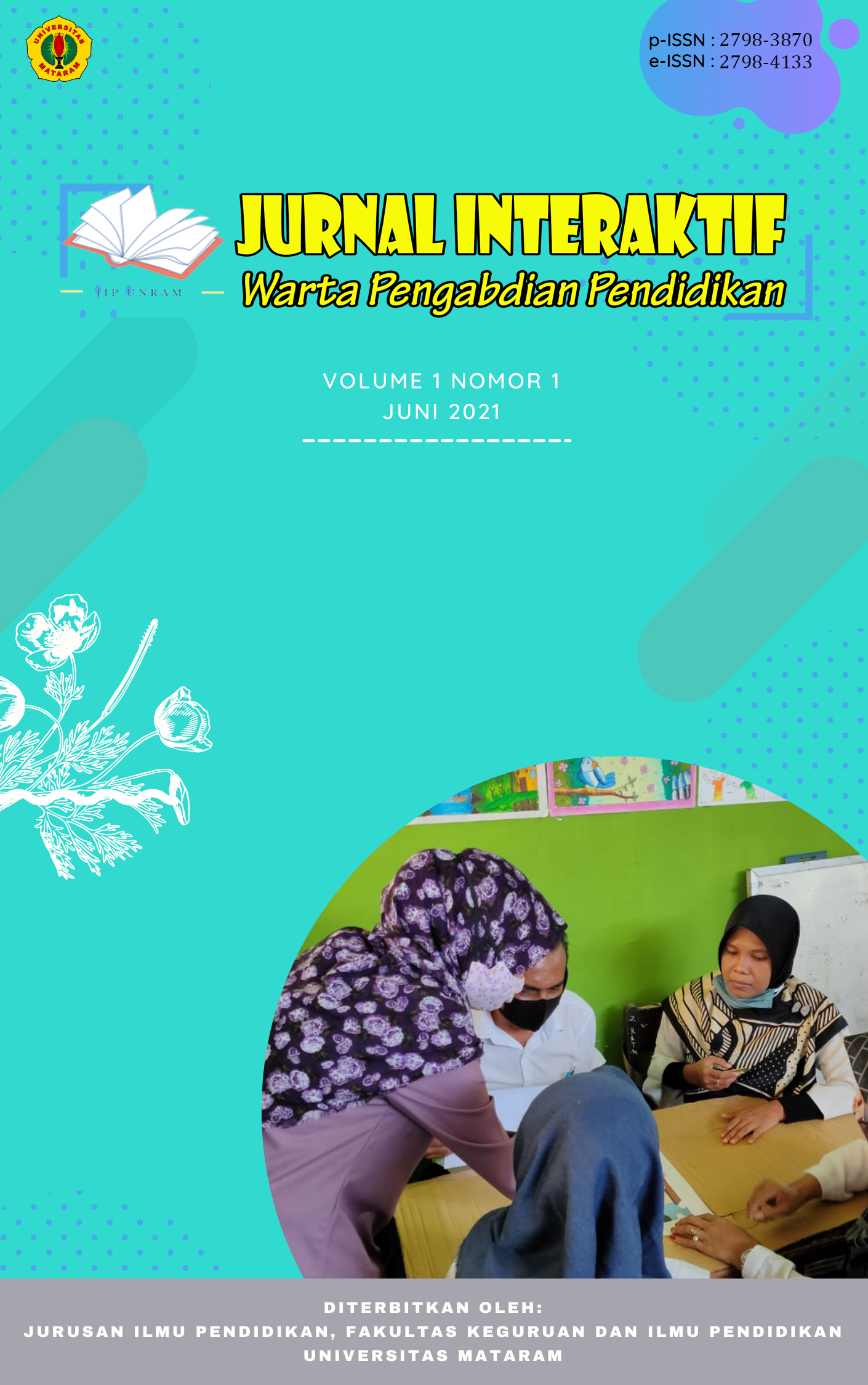 How to Cite
Anggraini, F. L., & Feryyal, V. (2021). BIMBINGAN KEAGAMAAN TENTANG ASWAJA AN-NAHDLIYAH PADA KELOMPOK KEGIATAN DZIKIR FIDA' PUTRI DI MASJID AL- AMIN DESA SOKO, BANDUNG, TULUNGAGUNG. Jurnal Interaktif: Warta Pengabdian Pendidikan, 1(1), 30 - 34. Retrieved from http://jiwpp.unram.ac.id/index.php/jiwpp/article/view/6