PELATIHAN PENINGKATAN KOMPETENSI SUPERVISI KEPALA SEKOLAH DAN GURU PAMONG DALAM PENDAMPINGAN PPL MAHASISWA PGSD FKIP UNIVERSITAS MATARAM DI GUGUS 2 KOTA MATARAM
Moh. Irawan Zain

PGSD FKIP Universitas Mataram

Sudirman Sudirman

PGSD FKIP Universitas Mataram

Abdul Kadir Jaelani

PGSD FKIP Universitas Mataram
Abstract
The purpose of this activity is to provide supervision provisions for school principals and tutors so that tutors in particular are able to provide correct and measurable assistance to PGSD FKIP students who carry out PPL in elementary schools. The problem in this service is the lack of maximum assistance carried out by civil servant teachers to PPL students in Mataram District. The method applied in this counseling is multi-method, namely the lecture method, question and answer method, and demonstration method as well as the assignment method. The training was held at SDN 19 Mataram with a total of 34 teachers. It should be stated that this service was quite successful because 80% of all participants who were targeted for the training managed to complete the given training tasks. The number of participants who took part in the training was 34 of the 30 people planned, this result was due to the request of the principal from cluster 2 of Mataram District on average asking for additional participants, this means that the implementation of this service has met the previously desired standards.
References
FKIP. (2017). Buku Pedoman PPL FKIP Universitas Mataram. Arga Fuji. Mataram
Imron, Ali. (2011). Supervisi Pembelajaran Tingkat Satuan Pendidikan. Bumi Aksara. Jakarta.
Sudjana , Nana. (1988). Dasar-dasar Proses Belajar Mengajar. Bandung: Sinar Baru.
Sahertian, P.A. (2000). Konsep Dasar dan Teknik Supervisi Pendidikan dalam Rangka Pengembangan Sumber Daya Manusia. Jakarta: Rineka Cipta.
Sutisna, Oteng. (1993). Administrasi Pendidikan: Dasar Teoritis untuk Praktek Profesional. Bandung: Angkasa.
Satori, Djam'an. (1989). Pengembangan Model Supervisi Sekolah Dasar (Penelitian terhadap Efektivirtas Sistem Pelayanan/Bantuan Profesional bagi Guru-guru SD di Cianjur Jawa Barat). Disertasi Doktor pada PPS IKIP Bandung: tidak diterbitkan.
Sulo, Sulu Lipu La. (1998). Supervisi Klinis Pendekatan Bimbingan dalam Penyelenggaraan Program Pengalaman Lapangan (PPL). Jakarta: Depdikbud Dirjen Dikti PPGSM.
UU-RI Nomor 14 Tahun 2005. Sisdikker.dikti.go.id. Diakses tahun 2017.
Winardi. (1996). Manajemen Supervisi. Bandung: Mandar Maju.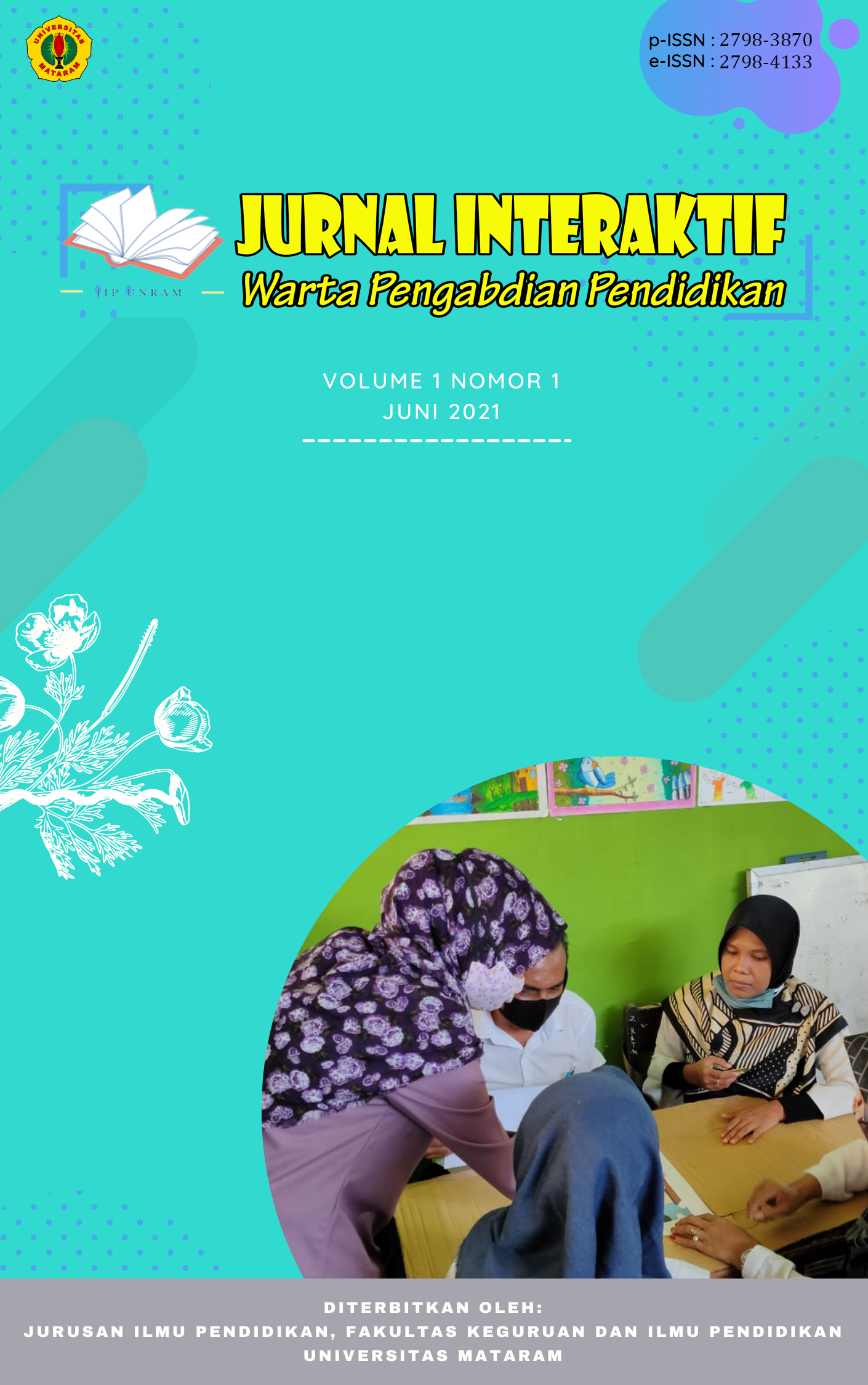 How to Cite
Zain, M. I., Sudirman, S., & Jaelani, A. K. (2021). PELATIHAN PENINGKATAN KOMPETENSI SUPERVISI KEPALA SEKOLAH DAN GURU PAMONG DALAM PENDAMPINGAN PPL MAHASISWA PGSD FKIP UNIVERSITAS MATARAM DI GUGUS 2 KOTA MATARAM. Jurnal Interaktif: Warta Pengabdian Pendidikan, 1(1), 26 - 29. Retrieved from http://jiwpp.unram.ac.id/index.php/jiwpp/article/view/5