AKSI BERSIH PANTAI DALAM MENINGKATKAN LINGKUNGAN BERSIH DI PANTAI SEGER KUTA LOMBOK
Baiq Wirian Mardiana

FKIP UNRAM

Dwi Sonia Sari

FKIP Universitas Mataram

Hemamalini Hemamalini

FKIP Universitas Mataram

Lale Yasmin

FKIP Universitas Mataram

Lalu Gede A. K. D. Adistira

FKIP Universitas Mataram

Lita Purnama Sari

FKIP Universitas Mataram

Septiyana Tri Ludyasari

FKIP Universitas Mataram

Yuyun Sumbawati

FKIP Universitas Mataram

A. Hari Witono

PGSD FKIP UNRAM

Heri Setiawan

FKIP Universitas Mataram
Keywords:
KEK Mandalika, Beach cleaning, Seger Kuta
Abstract
The rapid development of tourism in the Mandalika SEZ area has various positive and negative impacts. The negative impact is in the form of various problems, one of which is the problem of waste, such as in the Seger beach area of ​​Kuta, Lombok. One of the things that can overcome this is, it takes awareness of the local community and visitors to keep the environment clean. Efforts that can be made to overcome these problems are, the Unram Integrated Community Service Team concluded to carry out weekly routine cleaning or beach clean-up actions around Seger beach. This activity aims to increase public awareness and visitors to maintain cleanliness and provide an understanding that by disposing of garbage in its place can make the environment cleaner so that the beauty of the beach can be enjoyed comfortably. The methods used are direct observation, interviews, coordination, preparation, and implementation of beach cleaning as well as waste disposal. The Unram team consists of 15 students. Through weekly clean-up activities, the cleanliness around the beach is maintained and there is an increase in public and visitor awareness in maintaining cleanliness. The results were quite good, so that the community members took part in the Seger beach clean-up activities. In the future, it is hoped that there will be complete facilities and technical waste transportation so that the cleanliness of the Seger beach is maintained.
References
Apriliani, Purba, Dewanti, Herawati, & Faizal. (2017). Aksi Bersih Pantai Dalam Rangka Penanggulangan Pencemaran Pesisir Di Pantai Pangandaran. Jurnal Pengabdian Kepada Masyarakat. 1 (2), hal 77-80.
Cahyadi, F. D., Widiyanto, K., & Prakoso, K. (2021). Edukasi Gerakan Bersih Pantai Dan Laut Di Pulau Tunda. Abdimas Unwahas, 6(1).
Khairunnisa, K., Jiwandono, I. S., Nurhasanah, N., Dewi, N. K., Saputra, H. H., & Wati, T. L. (2019). Kampanye Kebersihan Lingkungan Melalui Program Kerja Bakti Membangun Desa Di Lombok Utara. Jurnal Pendidikan Dan Pengabdian Masyarakat, 2(2).
Lestari, N. P. E., & Suryani, N. K. (2022). Program Pengabdian Kepada Masyarakat Bersih Pantai Kuta Bali. Jurnal Altifani Penelitian dan Pengabdian kepada Masyarakat, 2(2), 183-189..
Nau, G. W., & Sombo, I. T. (2020). Sosialisasi dan gerakan bersih pantai sebagai upaya mengurangi sampah di kawasan wisata hutan mangrove oesapa barat kota kupang. Jurnal Vokasi, 4(2), 93-97.
Rancak, Aqraboittaqwa., dan Widiyanti. (2020). Baseline On Plastic Waste On Mandalika Sez Indonesia. (Online), (https://sampahlaut.id/baseline-on-plastic-waste-on-mandalika-sez/), diakses 27 Februari 2022.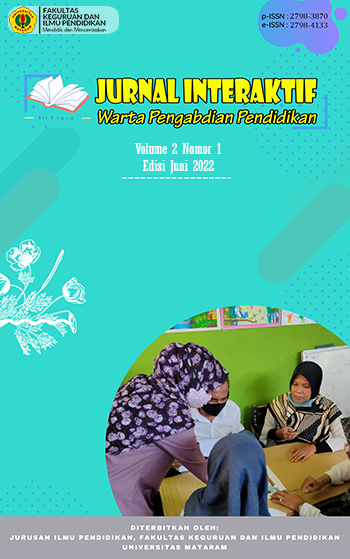 How to Cite
Mardiana, B. W., Sari, D. S., Hemamalini, H., Yasmin, L., Adistira, L. G. A. K. D., Sari, L. P., Ludyasari, S. T., Sumbawati, Y., Witono, A. H., & Setiawan, H. (2022). AKSI BERSIH PANTAI DALAM MENINGKATKAN LINGKUNGAN BERSIH DI PANTAI SEGER KUTA LOMBOK . Jurnal Interaktif: Warta Pengabdian Pendidikan, 2(1), 1 - 5. https://doi.org/10.29303/interaktif.v2i1.48